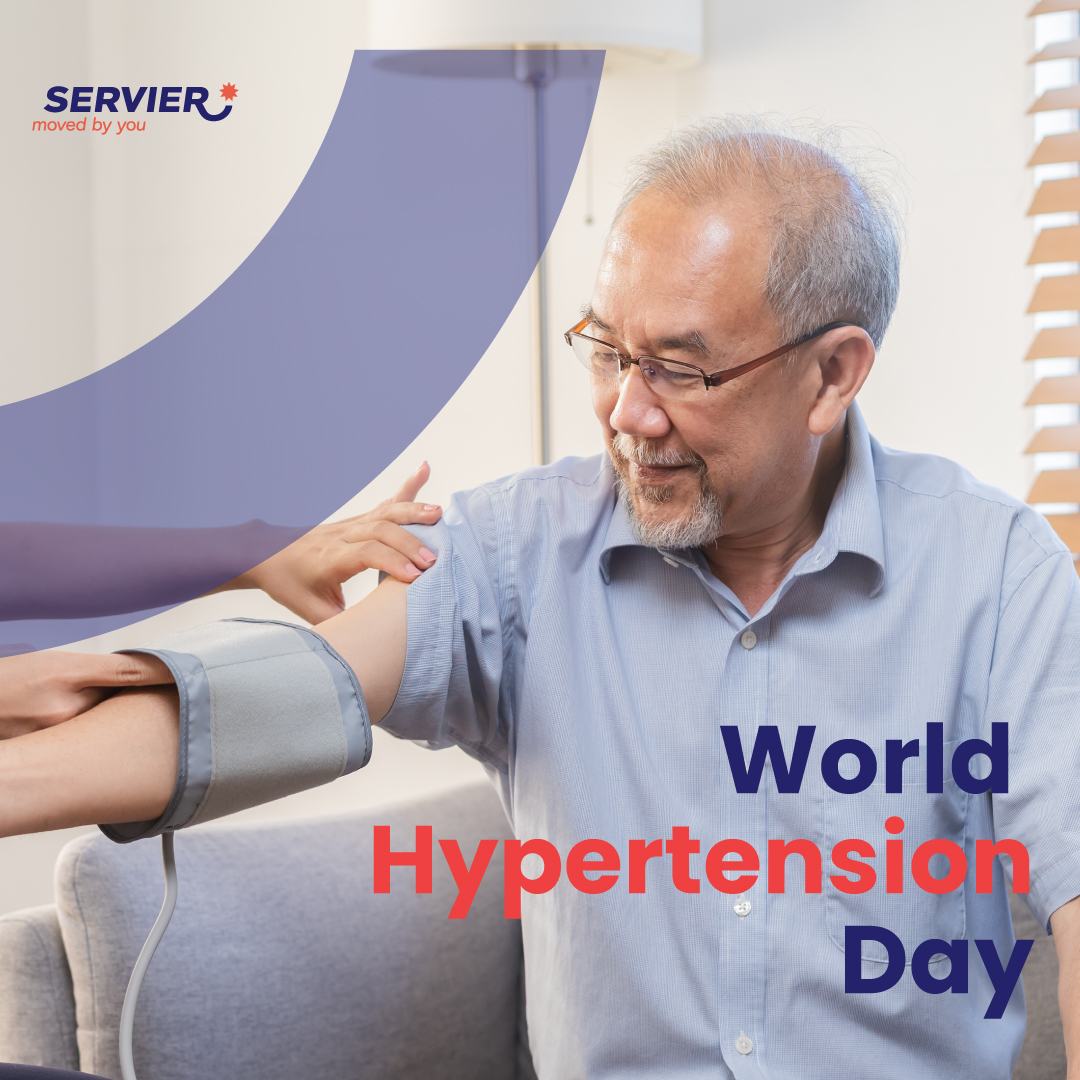 On World Hypertension Day this May 17, Servier is committed to reminding patients of the importance of screening to diagnose hypertension.
---
A day to raise awareness worldwide of the importance of diagnosing hypertension
46% of adults with hypertension worldwide are unaware that they have it[1]. This observation demonstrates the importance of early diagnosis, since hypertension has the particular feature of presenting few or no warning signs.
"Measure your blood pressure accurately, control it, live longer." The goal of the 2023 edition developed by the World Hypertension League is clear: it focuses on awareness and combating low diagnosis rates around the world.
As the world's second-largest pharmaceutical group in hypertension[2], we support this event and have joined the May Measure Month screening initiative from the International Society of Hypertension.
'Hypertension is the leading cause of mortality worldwide, often asymptomatic, and silent', states David Pédelabat-Lartigau, Director of Servier's antihypertensive portfolio. As a recognized leader, we have the responsibility to find innovative and personalized solutions to improve the management of this disease. World Hypertension Day is therefore an opportunity to remind people of the importance of early diagnosis, adherence to treatments, and informing patients about associated risks.'
On May 1, Servier launched the 5th edition of "#BecauseIsayso," "#CheckYourBloodPressure", its awareness campaign on the importance of measuring blood pressure. Throughout the month of May, the campaign is relayed on social media to encourage people to check their blood pressure. Discover the 2023 #BecauseIsayso #CheckYourBloodPressure awareness campaign.
Hypertension, a silent killer that must be detected as early as possible
Hypertension (HT) is a chronic disease defined by blood pressure that is too high. This is one of the main risk factors for cardiovascular disease. Ever on the rise, it is currently one of the leading causes of premature death in the world according to WHO and is responsible for nearly 11 million deaths per year[3]. One in four men, and one in five women, are affected by this disease.
Early detection of hypertension reduces the risk of complications and improves patient management.
All about hypertension: Read our insight
Going digital: A solution to help improve diagnosis and management
At Servier, we also develop innovative digital solutions that aim to improve patient diagnosis, monitoring and compliance, and more generally their quality of life.
For example we launched the MyHealthPartner.ie free website, developed by Servier in collaboration with the Global Heart Hub, which provides a great deal of information about chronic diseases — including hypertension — to Irish patients, their loved ones, and health care professionals.
Diagnosing hypertension: When, where and how?
A quick and easy diagnosis
To screen for hypertension, you must measure your blood pressure. This is done using a blood pressure monitor, which is an inflatable cuff connected to a dial, on which the pressure at time T will be indicated. Most of the time, this exam is done at the doctor's office or with a nurse during a routine appointment. Hypertension is when your blood pressure reading is higher than 140/90 mm Hg.
When should you be diagnosed?
It is recommended to have your blood pressure checked regularly at least every 5 years if you are over 40 years old, or more often if you suffer from hypertension, in agreement with your healthcare team[4].
The best ways to limit the risk of hypertension
Often, there is no obvious cause of hypertension — but there are ways to limit the risks. Here are some tips:
Eat a balanced diet, avoiding foods with high fat and high sodium content.
Get regular physical activity.
Avoid excessive consumption of alcohol and tobacco.
In any case, it's best to measure your blood pressure regularly!
---
[1] World Health Organization, 2023
[2] IQVIA, Analytics Link / World 74 countries – MAT Q4-2022
[3] Global Disparities of Hypertension Prevalence and Control: A Systematic Analysis of Population-Based Studies From 90 Countries. Circulation 2016 Aug 9;134(6):441-50.doi: 10.1161/CIRCULATIONAHA.115.018912.
[4] CDC Measuring Blood Pressure 2019. CDC About High Blood Pressure (Hypertension) 2018. NHS High blood pressure (hypertension) 2019.